WELCOME!
Pottery classes, workshops and memberships in the heart of downtown Tigard!
Classes
---
Class offerings vary each term. Class offerings may include, Beginning Pottery Wheel, Intermediate wheel level 1 or 2, Handbuilding level 1 or 2, Intro to Pottery (wheel and hb) level 1 or 2, Lidded Forms, and more!
One bag of clay is provided per student and all firings and glazes are included in the class price.
Minimum age to sign up for a class is 16.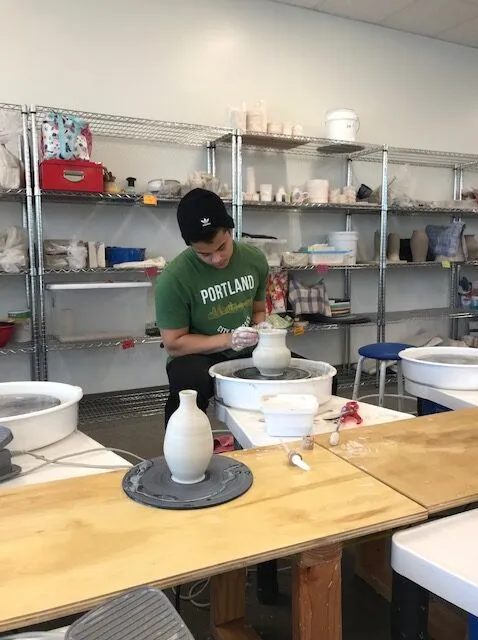 Memberships – $195
---
Those with less than 2 years of ceramics experience must take 3 classes at Cascade to become a member. Those with 2 or more years of ceramics experience must still take one class with us before becoming a member. This is to make sure you have a good understanding of the studio, have a chance to get to know the instructors and some class friends, and get some experience using our glazes before being on your own with them.
If you meet these requirements, email us at info@cascadeceramics.com to join the waitlist for studio membership!
Our memberships are for potters who know how to work independently in the studio on our equipment. Members are given a key fob for 24/7 access to the studio.
We have 12 designated member wheels so members may come use the pottery wheels during class times.
In-studio members have access to wheels, tools, slab roller, banding wheels, 10+ cone 6 glazes, and more. Firings are included and the kilns will be loaded/unloaded by our staff.
Members get one 48x18x16 shelf to store projects, clay, tools and any other supplies.
Minimum age to sign up is 18. Thank you.
Private Lessons and Group  Events
---
If you would like to schedule individual lessons or a group event such as a birthday party or team building event please email us at info@cascadeceramics.com